studio equipment list
Console
Studio Cabling
DAW
1 x Pro tools HD 3 Accell System (64 IO)
1 x Pro tools HDX 3 Accell System (64 IO)
1 x Apple MacPro 2 x 2.4 GHz Quad-Core Intel
Analogue Tape Reel to Reel Recording
1 x Sony APR -24 2 inch
1 x Studer A80R 1/2 inch
Tape supplied
Quantegy 499 2 inch NOS
RMGi 911 2 inch, 1/2 inch and 1/4 inch
AMPEX 456 NOS 2 inch, 1/2 inch and 1/4 inch
Converters
1 x Burl B2 Bomber DAC
1 x Burl B2 Bomber ADC
3 x Lynx Aurora 16 AD/DA converters
2 x Digidesign 192 IO converters
EQ
1 x RETRO 2A3 Program Equalizer
2 x Pultec EQP1A Program Equalizers
1 xNightPro EQ-3D(Maag)
Mic Pre's
10 x Phoenix Audio DRS1 mic pre's
2 x Avalon 737 Sp's
2 x Neve 1084 Plus EQ
8 x Neve 1073 Mic Pre Amps
4 x Neve 1272 Mic Pre Amps
6 x Neve 34127 Mic Pre Amps
2 x BAE Neve 1084 Mic Pre Amps
Compressors
1 x Shadow Hills Optograph Compressor
2 x UREI LA3A Compressors
2 x UREI LA4A Compressors
1 x Retro 176 Compressor
1 x Urei 1178 Compressor
1 x Empirical Labs Fatso
2 x EL8-X Distressors
1 x Manley Vari Mu
3 x UREI 1176
1 x Chandler TG1 Limiter
2 x DBX 106VU
DI's
Microphones
2 x Shure SM7B
1 x Neumann U47 tube
1 x Neumann U67 tube
1 x Neumann FET 47
3 x Sennheiser MD 421's
2 x Beyerdynamic M201
1 x Beyerdynamic M88
1 x AKG D12
2 x Neumann U87
2 x Neumann TLM 103
3 x AKG C414 EB (Fitted C12 capsule)
2 x AKG C451
1 x Audio Technica ATM 25
1 x Audio Technica AES 5100
4 x Shure SM 57
1 x TUL G12
2 x Shure SM 58
1 x Neumann U89
1 x Yamaha NS10 Sub
Monitors
KRK 7000B
Yamaha NS10
B and W 802FS
Auratone 5C Supersound Cubes
Playback Monitoring
Hear Technologies Hear Back System
Monitor Amplification
1x Bryston 3B
1 x Bryston 4B
Amps
1 x Vox AC 30
Orange Twin Reverb
2 x Fender Twin Reverb
Gretsch 6464 18 Watt Valve Amp
Mesa Boogie Dual rectifier Head and 4 x 12 cab
1970's Marshall Super Lead 100W Head
1969 Marshall Super Bass 100W Head
1969 Marshall JTM 50W Head
3 x 1969 Marshall 4 x 12 cab
Acoustic Guitars
Martin D28
Martin M38
Gibson SJ-200
Gibson LG-1
Electric Guitars
1968 Fender Telecaster Pink Paisley
1974 fender Stratocaster
1977 fender Telecaster
1978 Gibson Exporer
1980 Gibson SG Double Neck
2 x Fender USA Telecasters
1 x 74' Fender Stratocaster
1 x 1937 Gibson lapsteel
1 x Fender Thinline 1969
Stomp Boxes
Echoplex EP 3
Boss Digital Delay
Boss Turbo Overdrive
Boss Tuner
Boss Harmonist
Boss Tremelo
Soul Preacher compressor
Ibanez Tube Screamer
Ibanez Tube Screamer 30th Anniversary
Jim Dunlop WahWah Crybaby
Jimi Hendrix Fuzz
Big Muff
Bif Muff Germanium
Boss Flanger BF-1
RAT distortion
Sovereign WAMPLER Distortion
EL NANO Clone Chorus
Boss Equalizer GE7
Digitech Bad Monkey
Boss Super Overdrive
Boss Bass Overdrive OD3
TC Electronic MOJO
TC Electronic DARK MATTER
IBANEZ JET DRIVER JD9
Boss Blues Driver
Basses
1 x Fender Jazz Bass (4string)
1 x Fender Precision Bass (4string)
1 x PRS Bass (4string)
Drum Kits
Yamaha Absolute Maple Custom with
22 inch Kick
10 inch rack tom
12 inch rack tom
13 inch rack tom
14 inch rack tom
16 inch floor tom
14 inch snare
Ludwig 1967 Champaign Sparkle kit
26 inch Kick
22 inch Kick
12 inch rack tom
13 inch rack tom
16 inch floor tom
Ludwig 1964 Blue Oyster kit
26 inch Kick
22 inch Kick
12 inch rack tom
13 inch rack tom
16 inch floor tom
Pear Masters retrospec
22 x 20 inch Kick
10 inchrack tom
12 inch rack tom
13 inch rack tom
16 inch floor tom
18 inch floor tom
Snares
1 x Ludwig Black Beauty 14" x 6.5" snare
1 x Ludwig Supraphonic Supersensitive 14 x 6.5"snare
1 x Ludwig Supraphonic Supersensitive 14 x 5"snare
1 x Pearl Chad Smith 14 x 5"snare
featured artist
Dan Patlansky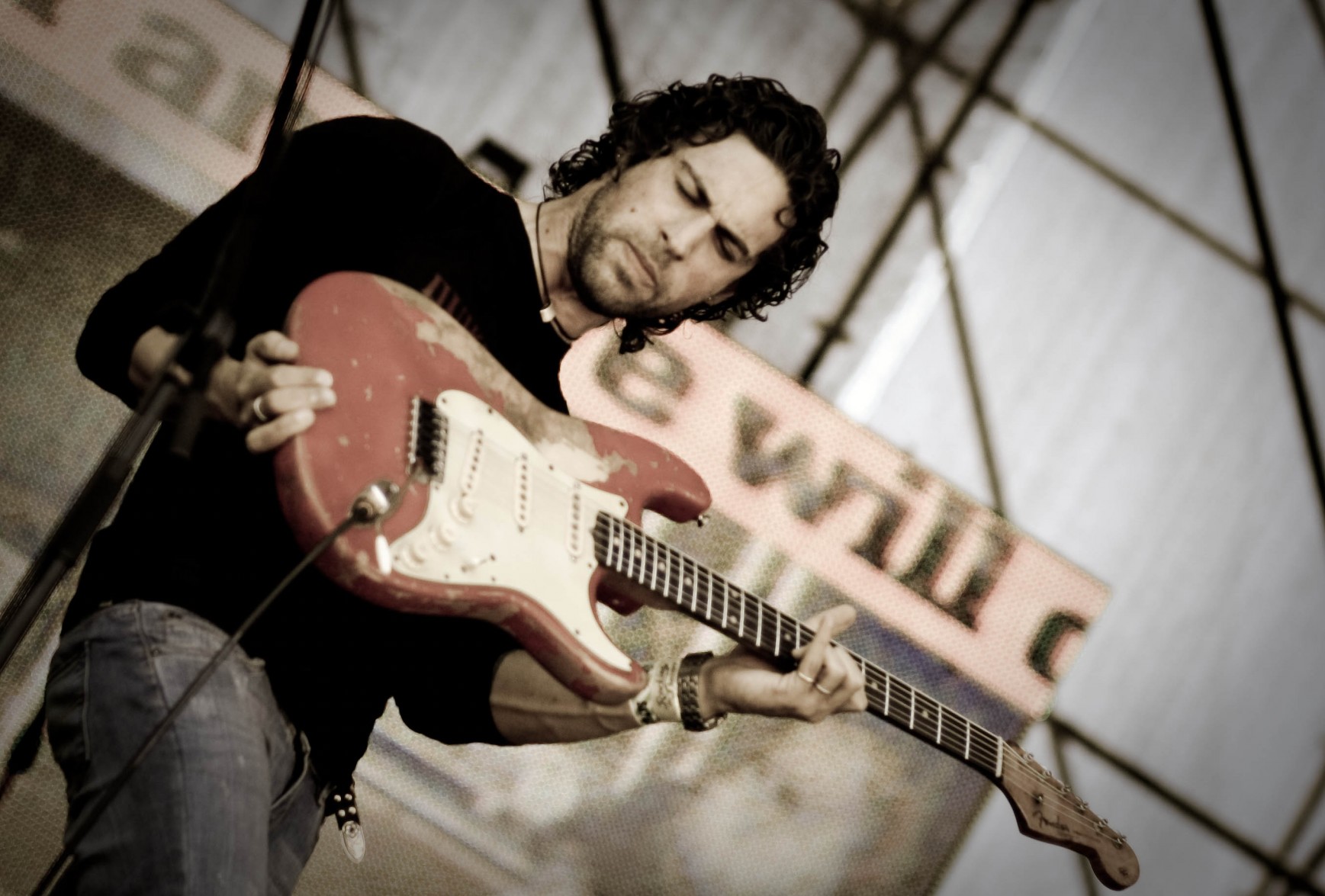 Never far from likeminded genius, guitarist, singer/songwriter and globally respected purveyor of the blues, Dan Patlansky sidles into his second successive decade as one of the world's finest blues-based storytellers of his generation.
Dan started 2014 off with a bang when he was chosen to open for BRUCE SPRINGSTEEN in front of 64 000 people at the FNB Stadium in Johannesburg in February on his High Hopes tour. Dan was personally approved by Springsteen as support act, seeing as Springsteen rarely has guest artists for his shows. Also a milestone for Dan's career when he played in front of the biggest audience he has ever played to.
After touring Europe in 2013 with Everlast, Dan returned to the continent in October 2014 for another tour to promote Dear Silence Thieves internationally. He impressed Norway when he headlined the FJORD BLUES FESTIVAL with words such as 'magic' and 'religious experience' used to describe his performance.
In recording Dear Silence Thieves, Dan was frugal when it came to dishing out meaty middle eights. "Solos on the album are fewer and farther between than on my earlier releases," he declares. "Solos are more of a gift, but when I play these tracks live, my band and I get to lose ourselves in the layers of each new song, and they unravel beautifully and differently every time."
Playing as a three-piece, Dan's tight trio make for impressive listening and watching live. "After a week of fine-tuning the new songs, and a full month in studio with Theo Crous, Dear Silence Thieves is the confident and concise statement that will be heard in Europe, across South Africa, and all the way back to the genesis of Patlansky's passion, the blues. And, as with its maker, Dear Silence Thieves bursts with a bold personality.
Dan will be going on a UK tour in Novermber 2015 with the legendary Joe Satriani to further promote Dear Silence Thieves.
"Dear Silence Thieves is his 7th album and finds him locked in with experienced producer Theo Crous who gives the project an extra pair of ears. The result is a slickly produced, song driven, blues rock album with occasionally funky influences and a melodic pop heart." – Get Ready to Rock
---